Carpet Cleaning in Greenwood MO
It is important for you to take care of your property in the Greenwood, Missouri area. This includes your carpets. At Crystal Steem Carpet Cleaner, we provide professional carpet cleaning services. As a Greenwood carpet cleaning company, we understand you expect the best from us. You will get no less than our best effort every time, and this is reflected in the clean carpet you will have when we are done. Take a look at our services below, and do not hesitate to call us with any questions.
Carpet Cleaning in Greenwood MO
At Crystal Steem Carpet Cleaner, we provide you with the professional cleaning services you are looking for. If you want your carpet to maintain its value, it is critical to take care of it. Even though this means vacuuming your carpet and removing stains as quickly as possible, this also means reaching out to professional carpet cleaners for quality service and deep cleaning from time to time. Our team would be happy to provide this for you.
What To Expect From Our Carpet Cleaning Services
If you decide to partner with our carpet cleaning company, there are several basic expectations you should have. They include:
You should expect us to be upfront and honest with you about all the services we provide.
You should expect us to tailor our services to meet your needs instead of simply giving you a cookie-cutter approach.
You should expect our technicians to keep you updated every step of the way while also answering your questions and concerns.
We have refined our carpet cleaning services to make sure we take care of all of your needs.
Other Services We Offer: Upholstery Cleaning and More
Even though we specialize in carpet cleaning, there are several other services we offer as well. They include: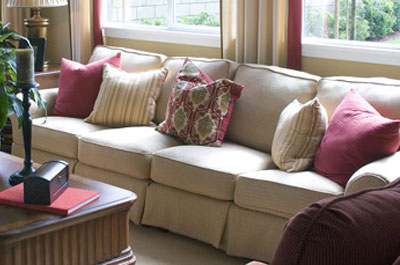 Upholstery Cleaning
We would be happy to clean your fabrics for you. Our upholstery cleaning services are exceptional.
Emergency Water Extraction
If you have water in your building, you need to remove it as quickly as possible. We offer emergency water extraction services that can help you.
Tile & Grout Cleaning
We also provide professional tile and grout cleaning services. You need a special team that understands how to clean your tile without damaging it. Trust our tile cleaning team to assist you.
Regardless of the type of cleaning needs you have, we are confident that we can address them for you.
Why Our Cleaning Processes Represent the Best in the Industry
Throughout the years we have been in business, we have honed our cleaning processes to make sure they are the best in the industry. Some of the reasons why you should trust us include:
We use environmentally-friendly cleaning solutions that will clean your carpets without damaging the environment.

We stay on top of the latest research in our field because we believe it is important for providing you with the service you deserve.
We have an unparalleled level of experience dealing with a wide variety of carpet concerns. We are confident that we can handle everything you throw at us.
For all of these reasons, you should count on Crystal Steem Carpet Cleaner if you are looking for professional carpet cleaners in Greenwood, Missouri. Let us show you what we can do.
Trust Crystal Steem Carpet Cleaner for Professional Cleaning Services in Greenwood, MO
If you are looking for friendly, professional carpet cleaners who can assist you, look no further than Crystal Steem Carpet Cleaner. At Crystal Steem Carpet Cleaner, what sets us apart is our customer service. Even though we invest in the best equipment and the top cleaning solutions, it is truly our people and our commitment to our clients that separate us from the others in our field. We provide both commercial and residential cleaning services in the Greenwood area, and we will leave you with a clean carpets when we are done. Contact us today to make an appointment.


We used Crystal Steem Cleaning for 2 homes and couldn't be happier with the care that was given. We plan on using them yearly to ensure the carpet stays fresh.
~ Timothy Olatunde


Ask for Jackie n Arron. Very professional and did awesome job. Carpet looks like new again.
~ Marilyn Biesenthal


Crystal Steem has been cleaning my carpets for years. They are always polite, offer a tremendous value, and go above and beyond.
~ Kaya Hewitt