Carpet Cleaning Lake Winnebago MO
If you own property, we know that you want to take care of it properly. That is why you probably vacuum your house, mop your floors, and sweep from time to time. What happens if there is an issue with your carpet that you cannot remove? In that case, it is important to reach out to a professional carpet cleaning company with a strong carpet cleaning process. We are Crystal Steem Carpet Cleaner, and it would be our pleasure to provide you with professional carpet cleaners who can help you. Let us show you why our carpet cleaners are second to none. Learn more about our services below.
Carpet Cleaning Lake Winnebago MO
At Crystal Steem Carpet Cleaner, we are proud to be one of the most trusted carpet cleaning companies in the local area. We take a slightly different approach to carpet cleaning by customizing our cleaning strategies to meet the needs of our clients. We understand that everyone is different, and we do not take a cookie-cutter approach to our carpet cleaning services. Instead, we will present you with a defined plan for how to address the issues related to your carpet. That way, we can not only fix the issue but also help you preserve your carpets for years to come.
We Can Remove Pet Stains and Odors
We understand that there are a lot of issues that you can probably handle on your own; however, there may be other issues that require the touch of a professional. For example, if there are pet odors and pet stains ingrained deep in your carpet, you may not be able to remove them on your own. We have the equipment necessary to remove common allergens from carpets, including pet dander, fur, and odors.
If there is a stain that is set deep in your carpet, you may not be able to remove it on your own. Do not run the risk of damaging your carpet by trying to get it out with an abrasive chemical. Instead, rely on our professional cleaning services. We use non-abrasive, environmentally-friendly cleaning substances to extract stains and restore the appearance of your carpet. We offer both residential cleaning services and commercial cleaning services.
We Offer Other Deep Cleaning Services as Well
At Crystal Steem Carpet Cleaner, it is true that we specialize in carpet cleaning, but there are other issues that we can handle as well. They include:
Emergency Water Extraction
It does not take very long for water to cause tens of thousands of dollars in damage. If you are looking for a team that can respond as quickly as possible, allow us to help you with water damage restoration.
Tile & Grout Cleaning
If you are looking for tile cleaning and grout cleaning services, our team can help you with that. Allow us to protect the quality of your tile floors.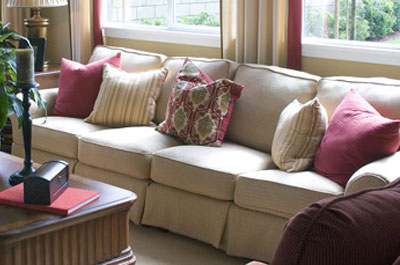 Upholstery Cleaning
At Crystal Steem Carpet Cleaner, we can help you protect your furniture as well. Our upholstery cleaning services can handle a wide variety of issues with your furniture, allowing you to protect it for generations.
It is our pleasure to provide you with the comprehensive cleaning services you are looking for. If you have questions about whether we can help you with a specific issue, you simply need to reach out to us to ask.


Crystal Steem is my go to carpet cleaning service. I use them quarterly to clean the capert in my home. They do an amazing job. They always arrive on time and send me a courtesy call when they arrive to my home. My carpet looks brand new each time. They are throuogh and leave my home smelling fresh. I would reccommend them for anyone looking to get their carpet cleaned.
~ RoseBanks


Jackie and his team were wonderful! Cleaned three areas in my house and the carpet looks brand new. I have dogs in and out of my house constantly and you would never know! I will definitely recommend to friends and family!
~ Sara Sweet


They were able to clean my upholstered headboard when Stanley Steemer came out and said that they couldn't do it because it would bleach and become lighter, without even testing it and left...such a wasted day off. Thanks to Jackie Robinson with Crystal Steem, my headboard looks completely new, they tested it before treatment and made it happen! Crystal Steem is the bomb! Thanks!
~ Jamilah Jones
Trust the Carpet Cleaning Process from Crystal Steem Carpet Cleaner in Lake Winnebago MO
It is important for you to protect your carpets from harm, and our team is available to help you. At Crystal Steem Carpet Cleaner, our experience is second to none, and we believe it will shine through in the quality of the customer service you receive. If you want to preserve the value of your property, you need to protect your carpets. We have a proven cleaning process that can help you with that. If you would like to learn more about how we can help you, reach out to us to schedule an appointment with a member of our team.